Overview
The Toshiba V-8600 / V-8700 claimed to be the first
third generation
VCR. The model consists of a V-8650 and a wireless VC-87 remote control. Compare this with the
V-8600
which consists of a V-8650 and a wired VC-86 remote control.
It was the first model to use four video heads (compared to two heads as used by all models before). These four heads gave the VCR a superior "Super Still" pause mode, with virtually no noise on the picture, and an excellent slow speed "Super Slow Motion" playback mode and frame by frame advance, also with very little noise.
Other features were:
A soft eject mechanism
"light touch" controls
Audio dubbing
Double speed playback
7x picture search
Counter memory
Full-featured wireless remote control unit
The VCR employed a belt driven mechanism and by later standards was very large and heavy.
This model appears to have been cloned by Emerson for their VE-1002 model.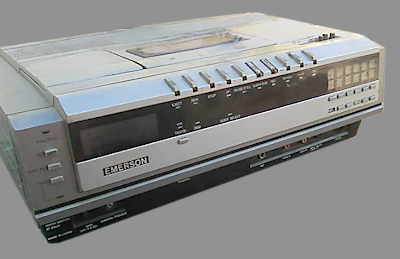 Many thanks to James Copp-Taylor for providing information and picture of this model
Thanks also to Stuart Bellfield for providing the photograph