Overview
The Sanyo VTC-NX100 was the successor to the
VTC-M10
VCR. It is a slim front loading machine and came in black styling with a bright red legend. The image shows its sibling the VTC-NX10 with its silver styling.
This Model was the last produced by Sanyo for the UK market. Out of all of the Sanyo Beta's this one had a poor picture quality compared to the previous line up.
It does though have features which improve upon the VTC-5000. For example colour picture search and pause. It is also one of the few Betamax models to support one touch record, the other possible example being the SL-HF950 with its "quick record" button.
The VTC-NX100 did not have a remote control although one was supplied for the Australian, Indonesian, New Zealand, South East Asian and Hong Kong versions.
Models VTC-NX10 and VTC-NX15 are very similar to the VTC-NX100. These feature 8 TV channel buttons with other models featuring 10 TV channel buttons. The specifications page also shows a comparison of the different international versions.
Features included:
Front loading
8 day 1 programme timer
One touch record
Instant record timer - starts and automatically stops recording without using the Programme Timer
Colour picture search at 7 timer normal speed
Freeze frame
12 channel tuner
Digital tape counter with memory
Soft touch controls
Advertising flysheet
Following is the original Sanyo advertising flysheet for this model.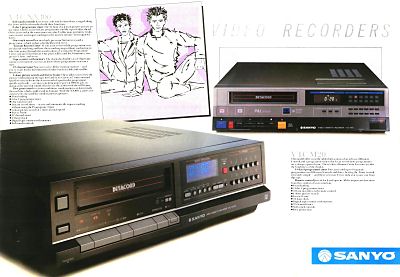 VTC-NX100 and the VTC-M20 - Click to enlarge
Thanks go to Noel Higgins and Kevin Lambert for supplying some of the information for this model.